Salvado's Story: How an Impromptu Piano Concert Saved a Regional Church Mission
About 170 years ago, Dom Rosendo Salvado walked 130 km from New Norcia to Perth to ask the Bishop there for funds to support his mission.
To put that into perspective, the average Australian only walks 3.2 km per day - and after Salvado walked the distance of three marathons to ask for those funds, he was turned down.
Still in his tattered long-distance-walking clothes, Salvado organised and performed a piano concert in the Old Perth Courthouse, where he played for three hours straight. The tiny venue sold out to 70 audience members who paid a pound each for entry, and the weekend newspaper gave him rave reviews:
"The piano was made to discourse most eloquent music under the touch of Mr Salvado. Sounds were produced which could not be anticipated out of any instrument [...]the style of Mr Salvado's playing, as far as could be affected on a piano, was most distinguished. Our younger branches of the community who have a taste for music, and are in the habit of practising, must have gleaned much intelligence and practical knowledge from this exhibition." (The Perth Gazette and Western Australian Journal, 23/5/1846)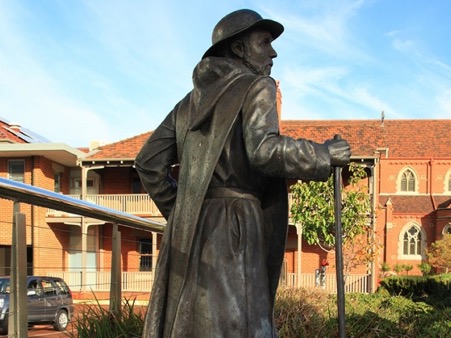 The paper pointed out that Salvado's stunning performance was a positive experience for the young musicians who attended, and went on to add that Mr Salvado's return to New Norcia (by foot, of course) was a "serious loss to the community".
Music has always been great for bringing people together and creating communities, which is probably why Salvado's concert was so well received by both Protestants and Catholics, who shared a strong animosity at the time. The way music overcomes barriers is something that continues to be celebrated today in concerts, music festivals, and any contexts where friends come together to play music (like the wonderful PianoEasy group lessons).
When Salvado had raised the funds he needed, he walked back to New Norcia, but it wasn't the last time he made that journey. In fact, if you leave the city of Perth and walk down Salvado Road, you can still see him travelling.
Although he returned to Perth several times, he never gave another piano concert. His legacy is carried on today by the Benedictine monks in New Norcia and their musical skill, which they continue to share with the community in their weekend Mass.